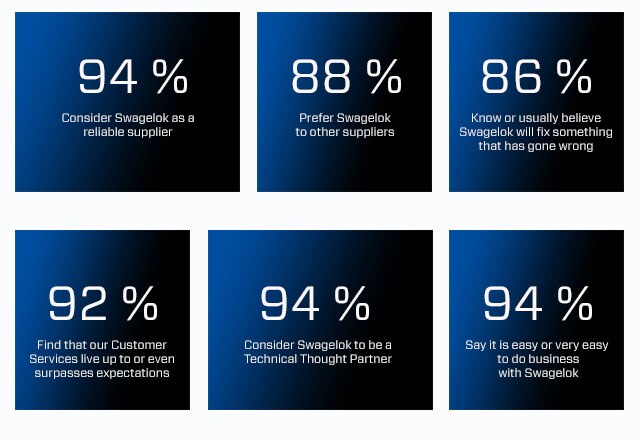 2015 survey results
At the end of 2015, Swagelok conducted a customer survey in close collaboration with the market research agency, ORC International. We received vast feedback via this survey and have now had the opportunity to review it all and can present an overview of the results. We would like to take the opportunity to thank all the survey participants. Your feedback enables us to improve how we do things in the future.
Much more than just world class fittings
The survey feedback indicates that Swagelok is doing well and that we, in general, live up to customer expectations. We have learned that you, on the whole, find it easy to do business with us and we are proud that all of 88% prefer our products to other suppliers in our line of business. Based on the results we can conclude that a majority of our customers conceive us as a supplier of fittings. That tells us that we have not been good enough at communicating the extent of our product range, which perhaps could cover some of your other needs for components for fluid systems. This is something we will be striving to improve in the future.

Not just supplier, but also partner
In general, our customers regard us as a leading player within our field and we are pleased to say that we are considered reliable, helpful and a technically competent partner.
Customer focus is one of our core values as is having tight connections to our customers. Furthermore, ensuring that you have satisfactory product, delivery, customer service and advice experiences is something to which we attach great importance in our daily work. We are therefore pleased that the survey indicates that the entire customer service experience we provide, to a large extent, meets your expectations. Likewise, the majority of our customers experience, and have faith in, that any defects, should they arise, will be corrected.
Our products aim to provide you with security and safety and at the same time add value to your systems and your business. Our prime objective is "Zero Customer Disappointments". In other words, we are determined that you will never be disappointed by Swagelok products and service quality. This objective is supported by our unique and exclusive limited lifetime warranty which you can read more about here.
More and improved information
The survey tells us that many of our customers would like more updated information about our new products and services. We acknowledge that this is something we have not been good at, and in the future, we will strive to improve our level of information. We have amongst other things launched a new website, where the user experience and the available information is considerably improved. In addition, it is our ambition to become better at informing our customers of new products, our entire product range and our services through targeted campaigns and via personal contact.

What will Swagelok Danmark do with the survey results?
Once again, we would like to thank the customers who took the time to participate in the survey. Your feedback provides us with important indications of where we are doing well and where the room for improvement is. It is important that we continually improve ourselves and can provide our customers with exactly the products and services they need. The survey gives us and Swagelok the ability to measure our efforts and maintain a culture that builds on continuous improvement based on the insight with which you, our customers, have provided us. At Swagelok Danmark we have an ambition of going to work every day and doing just a little better than the previous day. Our motivation for this is, to a great extent, the tight connections we are committed to ensuring both via our products and towards our customers.

Our customers say among other things:

"You can be sure that they keep what they promise. Great quality."

"Professional expertise is always available."

"Offer the best product and as long as they do that, we will recommend them."

"Professionally superior and fast."

"Excellent customer services and high-quality products."
Watch the
video with Art Anton, Swagelok's CEO
, giving an account of what the worldwide customer survey tells us.