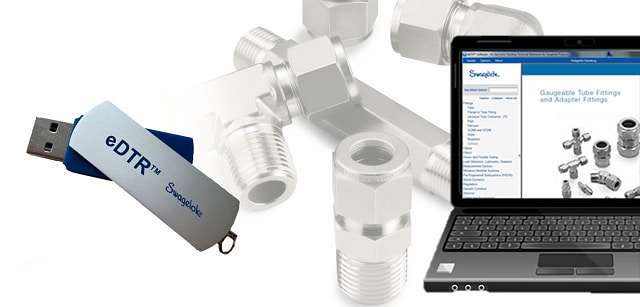 Product Catalog

You can order our electronic catalog in an electronic version called eDTR, please contact us on +45 76 12 19 50 or at
sales@swagelok.dk
.
For a full and always updated overview of Swagelok's products and for the latest documentation, we recommend that you install our electronic catalog, eDTR (Electronic Desktop Technical Reference) on your computer or on your tablet. eDTR ensures that you have our latest product range and documentation on hand at all times.
In the electronic catalog you can save and print selected pages, so in cases where it is important to have specific information on print, this is easily done. And you can be sure that the information is fully updated with the very latest information.
The Swagelok eDTR software is free of charge, easy to install and provides you with a number of advantages:
• Keyword search
• Intuitive user interface
• Ongoing updates
• Full overview of certifications, technical specifications and product data
For more information on how to replace the thick printed catalog with the environmentally friendly, updated, electronic catalog, please do not hesitate to contact us at
sales@swagelok.dk
or on +45 76 12 19 50 for additional help.